Dec 08 2008
I've finally got my little boy's room situated! I thought I'd take some pictures and show you how we're organizing everything to start out.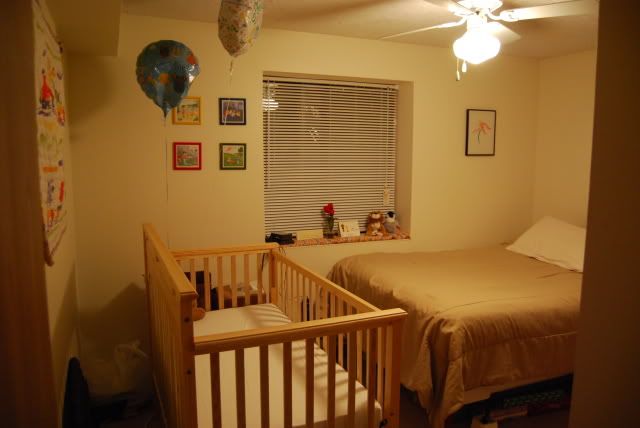 Here's the view of the room from the door way. The bed in there is used as a guest bed.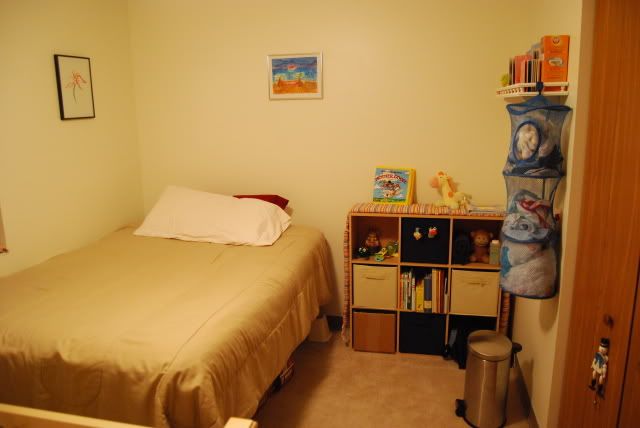 We have a little cubby-style shelf in the corner. One drawer has diapers ready to go, along with some wipes and diaper cream. Another drawer has burp clothes, another has breastfeeding aids (nursing pads, lanolin) and some baby first-aid stuff. The last bin has hats and t-shirts.
You might see a cardboard box in one of the slots. That's holding diapers from my diaper cake, and once I use those up, I'll put something cuter in there.
The bed is on risers that we got from Ikea. The bed is high enough that a box of diapers will easily fit under it. We have several hundred diapers and wipes under the bed. The rest of our stash is under our bed in the other room.
We bought the bookshelf from Home Depot. I love the colorful covers of children's books, so I wanted to have some facing out, rather than having their binding out. The blue thing hanging from it holds shoes and socks, bibs, and bags for diapers. The wastebasket below is for — you guessed it — icky diapers. I have an air-freshener disk for it and I have some baking soda on the bookshelf to sprinkle on top.
The closet is a bit smaller than I'd like, but it's working for now. We have board games on the top shelf (nowhere else for them to go) and heavy baby blankets next to them, with just a little bit of space on either side for some small items.
The six-slot hanging thing came from Target. The hanging clothes are current sizes. In the slots: 1. Sleep sacks 2. Sleepers with feet 3. Clothes sizes 3-6 months 4. Towels, washcloths 5. Pants 6. Clothes sizes 6-9 months. I have them labeled with sticky notes so that when other people do the laundry, they'll know where I want things to go.
His current clothing size will be hung up, ideally.
The wicker basket is for dirty laundry. There's a zip mesh bag that I'll use for socks. They are so tiny and are certain to get lost any other way. I'm storing clean socks in another zip mesh bag.
The cardboard box below is for outgrown maternity wear and baby clothes.
I have Christmas things in the bin below that. Nowhere else to put it.
I have two baskets under the crib. One basket is for receiving blankets. The other is to store mattress pads and sheets.
Our bed skirt, bumper pads and quilt (hanging on the wall behind the crib) was made by my grandma for my cousin's daughter. She no longer needs it, so she kindly sent it to me to use.
I decided to put the bumper pads elsewhere in the room. Changing the sheets with the pads on … not easy. Not to mention, bumper pads are questionable in their safety, so I decided just not to worry about it. One pad fit perfectly along the window sill. The other is hanging over our cubby shelf to add a splash of color.
Visit The Natural Mommy for more "meet and greets!"