Jul 29 2008
I am SO excited about being 18 weeks pregnant today! This week, we get to find out if it's a boy or a girl (oh my gosh, please don't be shy, Baby!). Our appointment is on Saturday morning, and Shane and I can't wait to see our baby on the monitor. He or or she will be much bigger than the last time we took a gander about 9 weeks ago.
I've been having trouble sleeping lately (what else is new?) because I've had to go to the bathroom every oh, 15 minutes or less. I guess Baby likes to rest or jump on my bladder, because last night, I had to go like 12 times and it was never more than a pathetic tinkle each time. I guess the sleepless nights have already begun.
I tried lying on my stomach with my rear high in the air, in hopes that gravity would help Baby shift. I don't know if that helped, but it was worth a shot.
As annoying as it is to go to the bathroom that much in a night, I'd rather go potty than be up 12 times barfing.
Oh, and lately, I wake up at 2 a.m. and 5 a.m. on the dot. What's up with that? Getting ready for those 2 and 5 a.m. feedings, I 'spose.
In other news, I'm gaining weight! Finally! My next official weigh-in is a week from today, and so help me, I think I'll finally start to see those numbers go up. My scale at home is sorta cheap and possibly inaccurate, but it's moving in the right direction.
In this picture, I'm wearing an official maternity shirt and pj pants I'm wearing low to display the largest tummy I can muster.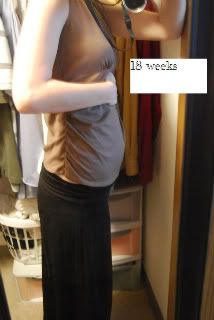 When I wear my pants up higher (where they belong) it does hide my tummy quite a bit.
If you haven't already guessed in the "boy or girl?" poll in my upper right sidebar, click over and vote now. It's a close race!
—
From BabyCenter.com
Head to rump, your baby is about 5 1/2 inches long (about the length of a bell pepper) and he weighs almost 7 ounces. He's busy flexing his arms and legs — movements that you'll start noticing more and more in the weeks ahead. His blood vessels are visible through his thin skin, and his ears are now in their final position, although they're still standing out from his head a bit. A protective covering of myelin is beginning to form around his nerves, a process that will continue for a year after he's born. If you're having a girl, her uterus and fallopian tubes are formed and in place. If you're having a boy, his genitals are noticeable now, but he may hide them from you during an ultrasound.