Jan 18 2012
Kacie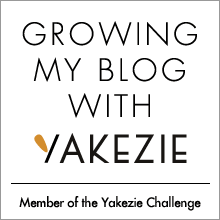 At the end of 2011, I was really in a rut here with the blog. I didn't know where to take it next, or how to fit blogging in with my life. After some regrouping and reflection, I identified some things I could do to enhance your experience here, and my own enjoyment as well.
First up — I'm a new Yakezie Challenger. Yakezie is a personal finance blogger network. Members are dedicated to helping one another with various blogging issues and overall it's a big support system. The catch? You have to be serious about your membership. They won't take just anyone!
I'm in a six-month challenge period. I have until then to get my Alexa ranking to below 200k (the lower the better). Today, I'm at 445k. That means that there are 445k other sites on the internet that rank better than mine. Here's some ways I can try to improve my Alexa ranking. A few weeks ago, I didn't know what or who Alexa was. Apparently she's the popularity judge, and we should try to get on her good side.
By networking with other Yakezie challengers and members and making several blog improvements, I hope to earn a membership spot. Even if I fall short, I know my blog will still be better for it.
New pages here:
I recently created a page called Babies & Your Budget where I have many of my baby-related posts and saving ideas.
A "my money situation" page, detailing our current budget and sharing highlights of our money story.
A series page to keep track of past series. It's located under the archives tab at the top. Right now, I have Courtney's story and Dorothy's (we need updates from them both soon, don't we?), wedding stuff, and house stuff.
Other things I'm doing:
Participating with SITS Girls and bloggers, working our way through ProBlogger's 31 Days to a Better Blog ebook. We're implementing ideas from that book and networking with one another.
Doing a DIY blog critique via MomComm's workbook. Psst: Enter code JANPROMO to grab it for $10.50. Sale ends Jan. 20!
Keeping a running list of blog post ideas, so that I can focus writing on my strongest ideas and make the best use of my time. The list is on regular paper so I don't get sucked into my computer to write one little thing, and find that I'm still on it 5 minutes later. Or worse.
Mapping out a tentative post schedule
Making a priority list of blog tasks. Lower priority stuff shouldn't clutter up my attention when higher priority stuff needs done first. So obvious, but I needed to tell myself that.
Searching for opportunities to guest post, and finding quality guest posts for my site (wanna post here? Get in touch!)
Adding Twitter & Facebook buttons to posts, and to my sidebar
Cleaning up my sidebars
Improving site loading speed
Making the font in the comments section larger. Why did no one ever tell me it was too small!? I feel so silly.
You get the point. I'm trying to make this site a better place to read and interact. Feedback always welcome!
[Disclosure: Post contains affiliate links]