Jul 29 2009
Kacie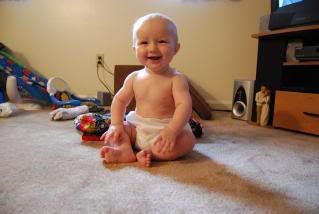 Johnny has been in cloth diapers for a little over a month. It isn't much time at all, but I figured I'd give my initial impressions of the kind we have for him, and my general thoughts of cloth diapering so far.
It's important to point out that what works for us now at this moment in his 7-month life will not necessarily work for him in a few months or for other children. With disposables, Luvs size 1 worked horribly for us. Size 3s worked ok. Why? Beats me. I won't be surprised if the system that works for us now will change as he becomes mobile and as his potty patterns change.
I wanted to sample a selection of cloth diapers before buying multiples of any particular type.  I can appreciate the pros and cons of each diapering type I tried, and can file that knowledge away for the future. The negatives are I have some diapers that don't work for us, and I'll need to get rid of them.
I did not like the first week of cloth diapering. It was a bit to learn, and since I only had a few diapers to use, we were doing lots of laundry. I didn't have a diaper pail. I didn't have a diaper sprayer or liners. I was grossed out and I wondered what I had gotten myself into.
Once I bought a hanging diaper pail (fits over the doorknob of our bathroom), the liners and a sprayer, I got some order into the diapering routine.
Some moms gush about how much the looove cloth diapers. I am not one of those moms. I like them better than disposables, but I don't love 'em. They're just diapers. I'll be glad when he's out of them.
What I like:
Much cheaper than disposables for us. I don't seem to have the time to bargain-hunt those diaper deals anymore. Seems like diaper prices are always on the rise and package sizes always shrinking. All told, I paid $384 for our diapers and accessories. These should last until he's potty-trained, and if they work for future children, all the better. Our water bill is included in our rent, and we have a high-efficiency washer. I haven't noticed an increase in our electric bill, but it's too soon to tell.
We really do have fewer leaks and blowouts with cloth. Disposables leaked and eeked all the time for us. We had one disastrous disposable explode in his car seat. I honestly think cloth would have contained it better.
We aren't making a ton of trash anymore.
We're trying elimination communication, and cloth helps me know when he's wet. Probably helps him understand, too.
I don't like:
I don't like the poopy diapers. Who does? Diaper liners help tremendously, but I do have to use the diaper sprayer at times, and it doesn't always help. We're in the disgusting sticky-poop phase. Gag. I once put an extremely soiled diaper in the rinse-only cycle of my washing machine. The diaper sprayer did nothing on it. The washer rinsed it all out and I'm thankful it worked!
Let's be real here. Cloth diapering is a little more work than disposables. Sure, it takes all of one minute to load the washing machine and set the cycle, and maybe 5-10 minutes to fold, stuff and put away diapers for next time. It also is a little more work after changing the dipe — you might have to rinse it. Still, it isn't that much work, and for the amount of money we're saving, I'll do it.
Our system consists of prefolds (cheap-o kind and Indian cotton), Thirsties Duos (5), Thirsties size M (1), some Dappi nylon pants (2 each in size S and M), a Dancing Bears fleece cover, Smartipants pockets (3), Fuzzibunz pockets (1), BumGenius pockets (2) and Green Acres Designs semi-fitted pockets (3).
For nighttime, we use a semi-fitted pocket diaper that I stuff with a thin (cheapie) prefold, a microfiber towel, and a hemp or cotton doubler. I cover it with the fleece cover, the sized Thirsties, or the Dappi. It's the only combo that's worked — pocket diapers by themselves, no matter how I stuff 'em, won't hold up. It's a huge diaper, but whaddya do.
[We also have some Happy Heinys in size medium, but they don't fit Johnny well and I'd like to sell them. Let me know if you're interested.]
Accessories include a hanging diaper bag, diaper sprayer, disposable liners, some doublers, two Snappis, tea tree oil, and Country Save laundry detergent*. We use baby washcloths as wipes. I already had tons of these and didn't need to buy more.
The laundry detergent was a great deal on Amazon and we use it for all of our laundry. Through July 31, save 10 percent by using this coupon code: GRNHH7O9 . Also, you get free shipping. Free shipping for 40 pounds of laundry detergent. Wow!
Use your Swagbucks* gift cards to save even more. Just sayin'.
If you're new to cloth and don't like it, pinpoint the reason and see if you can come up with a solution. I couldn't stand the mega-poopy diapers, so I got some disposable liners to use when I suspect a BM is imminent (Sidetrack: Johnny pooped in the toilet today. Pooped! I'm really loving elimination communication!!).
If you're having bad leaks, strip the diapers, change the baby more often, add some doublers, or try a different style of diaper.
Also, if you're icked out by coming in contact with poop or pee, just remember that you'll be dealing with it on a disposable anyway. And on the baby's clothes, if it leaks.
I'm glad we switched to cloth. I do think it will save us a lot of money.
* Referral link