Archive for March, 2009:
Mar 25 2009
By
Kacie
I can't believe I forgot to include photos on my post telling ya all about my Price is Right adventure. Here ya go!
Just a baby bear resting in a chair won on the Price is Right.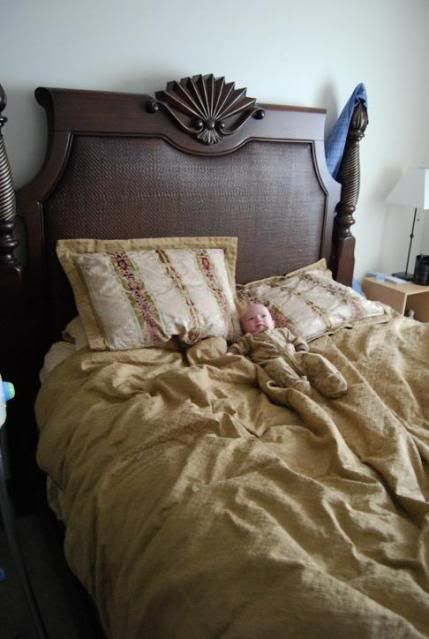 Baby bear blends in with the bedding, no? The bed has a footboard with similar posts as on the headboard. If I was thinking, I would have stepped back further so you could see the whole bed. And, I would have actually made the bed. I know you'll forgive me for not.
Check out this post to see a few of the dishes I won. The dinner plate is a little distorted in the pic, but they're square. 
 
He was so right, it's scary
Have you seen this YouTube video of Peter Schiff predicting this economic situation a few years back? He got it spot on. Everything he said has happened. Other financial "experts" laughed in his face. 
I'd like to know what Ben Stein and others interviewed in this video compliation would say now.
Peter says that the recession is necessary to correct the economy in the long term. Like medicine, it tastes bad but it helps to heal you, he says.
(Hat tip to Bob for posting the video on his blog)
Avoid prepayment penalties
Mrs Money has a great post explaining how you can avoid prepayment penalties when paying off loans, such as your car loan, before a certain time period.
I thought that if we paid our car off early, we'd owe an extra 1% of the full loan value. Not so! Check out her post to see how I'll only pay a teeny tiny penalty if we end up knocking out our loan in 36 months or less.
Be careful of oversaving
What's the point of saving gobs of money if you never have a plan for spending it? I like J.D.'s post cautioning about oversaving.
Save money with a purpose for it. For example, your emergency fund is to be spent in actual emergencies (duh), your clothing budget should actually be spent on clothes, and when you save for a vacation, be sure to actually go on it.
Sometimes, ya gotta spend a little to enjoy life. I have to remind myself that when I get in stealth savings mode.
Mar 23 2009
By
Kacie
At some point in high school, I came up with the grand idea of trying to get on The Price is Right. Why? More like, "Why not?"
I opted not to run track or cross-country during my senior year, and instead got a job at Osco Drug. I wanted to save money for college — and for my big trip to Los Angeles. In June 2003, my mom, grandma, and friend flew west with the hopes of meeting Bob Barker.
On the morning of my 18th birthday, we showed up at CBS Studios in Hollywood with our "tickets." These tickets don't guarantee a spot in the studio. They're just good enough for getting in line, basically. We were there at about 5 a.m.
After waiting around for several hours, the staff let us know that we wouldn't even make it in the studio that day. Meep! It was a bummer but we picked up tickets for the following day and resolved to try again.
We returned at some ridiculous hour — 3:30 or maybe 4 a.m. We spotted our new pal, Kevin, who we had chatted with the day prior. He also wanted another shot at making it into the studio audience.
As luck would have it, we were early enough to make it in the studio. Hooray! Each person in the audience had a quickie interview with the producing staff. We were supposed to tell him a little about ourselves and show our charming personalities and the like.
My mom and I later noticed that Producer Man had a code word for people he wanted on the show. He'd say, "I hear ya," in response to something a potential contestant said. He said this to me and Kevin!
Going inside the studio was such a surreal experience. The set was as cheesy as it looks on TV, but it looked much smaller inside. It was also as cold as a refrigerator ! I thought about putting on my sweatshirt, but I realized that it would cover up my name tag, and what would happen when they called my name to come on down? Bad things, that's what.
They called the first four contestants to come on down, and I wasn't among them. I wasn't worried. They called someone else. Hmm.
Next thing I know, I hear "Kacie (Lastname!)! Come on down, you're the next contestant on the Price is Right!!!!" Wooo! I couldn't believe it, and yet, I sort of knew it would happen. It had to happen.
We bid on a dinette set. I lowballed a $600 bid. Whoops. The lady who won that round ended up getting it exactly right for a $500 bonus! She won a car in her game. Oh, and she was the very first person in line that day. Yay, her!
Who was the next player to come on down? None other than my line friend, Kevin! I was happy for him, but I wanted to be a better bidder.
The next round, I was in it to win it. We were bidding on a La-Z-Boy chair and ottoman. I happened to be the last bidder. Serious as a heart attack, I looked Bob in the eye and said "$951." Yes, I was "that" bidder, the one who bids a dollar higher than the highest bid. That's how ya get on stage, sorry.
I won! The chair was something like $1,100.
On stage, I played a game called "Magic Number." I had to set my number between the price of two prizes — a ginormous queen-sized bed and an elaborate set of dishes. Um, do any 18-year-olds have any idea what either of those items cost? I didn't.
The audience yelled at me, but I couldn't hear them. I just set it to some random number and I hoped for the best. $1,271, I think it was. Thereabouts. Again, I'd have to check the tape.
My number was magic enough! It was between the price of both prizes. I won! Wheeeeeee!
I spun the big wheel, and boy, is it heavy. No wonder some people have a hard time with it. It landed on $0.10. I spun again, this time getting $0.95. Over by a nickel. (Click for sound effect ). Oh, well. I had won three prizes every 18-year-old could want, and I had followed through on a rather absurd life goal.
I was pretty happy!
Kevin made it on stage as well. He ended up in the showcase but overbid.
My total prize value was around $5,000. I had to pay California sales tax, and I had to claim the prize value as income on my income taxes. In all, I think I paid about $500 for my prizes. Yuck.
Since I went away to college shortly after that, I didn't have a place to keep my loot. My prizes lived with my parents for several years. Finally, when Shane and I moved to Pittsburgh, I got to bring my stuff with me.
The bed is super-comfortable. It's also extremely heavy and I'll probably have to hire movers to get it out of here when we move out of our apartment someday. The dishes are unique and fun. The chair is hideous, but I love it because of how I got it.
Moral of the story? Don't just say, "I want to be on The Price is Right someday." Save money, go to L.A., stand in line, and do it!