Mar 25 2009
Kacie
I can't believe I forgot to include photos on my post telling ya all about my Price is Right adventure. Here ya go!
Just a baby bear resting in a chair won on the Price is Right.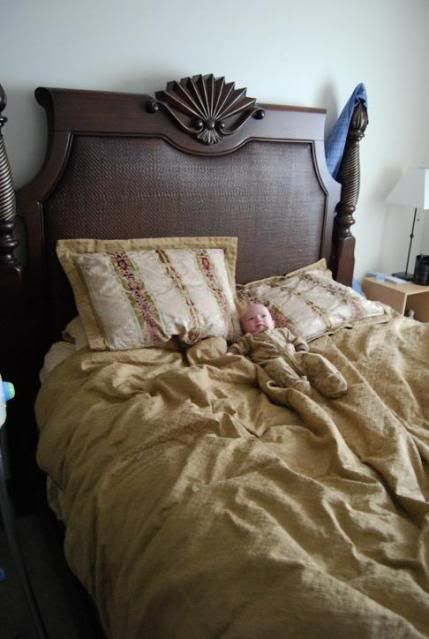 Baby bear blends in with the bedding, no? The bed has a footboard with similar posts as on the headboard. If I was thinking, I would have stepped back further so you could see the whole bed. And, I would have actually made the bed. I know you'll forgive me for not.
Check out this post to see a few of the dishes I won. The dinner plate is a little distorted in the pic, but they're square. 
 
He was so right, it's scary
Have you seen this YouTube video of Peter Schiff predicting this economic situation a few years back? He got it spot on. Everything he said has happened. Other financial "experts" laughed in his face. 
I'd like to know what Ben Stein and others interviewed in this video compliation would say now.
Peter says that the recession is necessary to correct the economy in the long term. Like medicine, it tastes bad but it helps to heal you, he says.
(Hat tip to Bob for posting the video on his blog)
Avoid prepayment penalties
Mrs Money has a great post explaining how you can avoid prepayment penalties when paying off loans, such as your car loan, before a certain time period.
I thought that if we paid our car off early, we'd owe an extra 1% of the full loan value. Not so! Check out her post to see how I'll only pay a teeny tiny penalty if we end up knocking out our loan in 36 months or less.
Be careful of oversaving
What's the point of saving gobs of money if you never have a plan for spending it? I like J.D.'s post cautioning about oversaving.
Save money with a purpose for it. For example, your emergency fund is to be spent in actual emergencies (duh), your clothing budget should actually be spent on clothes, and when you save for a vacation, be sure to actually go on it.
Sometimes, ya gotta spend a little to enjoy life. I have to remind myself that when I get in stealth savings mode.