Sep 15 2008
Kacie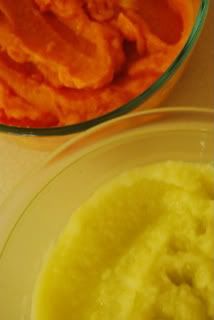 Today, I made some batches of orange puree and white puree, as I mentioned in my weekly menu post.
Essentially, I was making baby food. The orange was from carrots and sweet potatoes, and the white was from cauliflower and zucchini. In all, I estimate that it took an hour and a half to chop, slice, cook and puree everything. I took a quick break in between things, and my breaks are included in the overall time.
Yeah, that did kind of take awhile. However, time I have. What I'm lacking is excellent nutrition, so it's a good trade-off for me. I imagine these two purees will last quite awhile. I have at least 2 cups in each color, and many recipes call for just 1/4 cup to maybe 1/2 to 1 cup of the stuff.
Instead of discarding the water from the boiled carrots/potatoes, I drained it into a bowl and stuck it in my freezer to use when I make soup.
The white puree was a tad greenish, since I think I used a little more zucchini than the recipe called for. Oh well.
I hope these purees will add nutrition to my recipes without harming the flavor or texture.
Have you tried incorporating food purees into other recipes?