Aug 04 2008
Kacie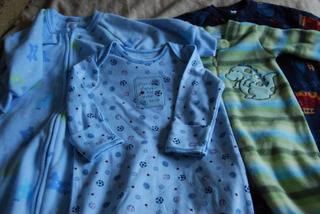 All you mamas out there no doubt have already discovered the store Once Upon a Child.
It's new to me though, and I love it so much I just wanna tell ya all about it!
Once Upon a Child is a second-hand store which specializes is baby's and children's clothing. You can bring in your gently used items to sell (I don't know how much money you can expect to get) and buy clothes, toys, and gear.
The selection at my closest store is incredible. There's a TON of clothes and it's well-organized. Each item I saw was in excellent condition because the store is picky about what they'll accept. Many items still had their original tags on them, and everything looked new or almost new. No stains, rips, missing snaps, or anything bad.
Prices are awesome. We found onesies for $1 each and cozy sleeper gowns for $3.50 to $5 or so. Prices vary, so you'll just have to look at the tag. Some of the more complex outfits (good for holiday pictures, for example) were $10 to $15.
We bought a few clothes, and I know we'll be back in the future to look at their bouncy seats ($15 for the ones I saw!), swings, strollers, bedding, carriers, etc.
After our shopping trip there, we went to the mall and Target. I wasn't really aware of the prices of new baby clothes, but I was shocked. Waaaay overpriced for something a baby will wear just a few times. What's even more–we weren't entirely impressed with the selection of clothes we found at mall retailers. They were just OK.
I think there are some deals to be had on clearance racks in first-hand stores, but based on our first experience at Once Upon a Child and how much we loved the prices, quality and selection, I think we'll be shopping there a lot.
Clothes are one of life's necessities, but why pay more if you don't have to?
By the way–we're having a baby boy!
Other ideas: See if there's a Freepeats in your area! Head over to BabyCheapskate to learn more about it. Also try craigslist, eBay, and passing along hand-me-downs to friends and family!
Where do you find baby clothes?