Jul 24 2008
Kacie
This post is one in a series from The Money Life Network. If you'd like to contribute a "Frugal things to do in" your city post, visit this page to learn how to be included.
Pittsburgh, Pennsylvania. The Steel City. The City of Bridges. The 'Burgh. No matter what you call it, this metro of about 2.5 million people is a bustling hub of activity in southwestern Pennsylvania. My husband and I have lived here for about 14 months, and we're still finding new things to explore (and new ways to get lost). Whether you're a resident or plan to make a visit some time in the future, here are a few things you can do for fun around "tahn" that are relatively affordable.
I'll admit–my travels are limited–but I've never been in a city quite like Pittsburgh. Before coming here, I never realized how hilly and beautiful it was! You'll be amazed at the sharp inclines, long hills, winding roads, and lush trees. Your gas mileage in the city will be terrible because of it, but at least things look nice, right?
The Allegheny and Monongahela Rivers come together and form the Ohio River. This confluence at "The Point" meets downtown, at the North Shore (has Heinz Field where da Stillers play and PNC Park where the Pirates play), and the scenic Mt. Washington area.
There are 90 distinct neighborhoods and plenty more municipalities in the area.
The combination of rivers, hills, and separate municipalities coming together to form one metro means the roads here are like a jumbled bowl of spaghetti. Twists and loops and tunnels, oh my!
You can't always make a series of left or right turns to turn yourself around and go the right way. Sometimes, if you make a wrong turn or are in the wrong lane at the wrong time, you'll have to completely alter your route and find a new way to get to your destination.
For this reason, if you're coming to Pittsburgh without a life-long resident as a guide, I'd highly suggest renting, borrowing, or buying a GPS. You won't always have satellite reception (hi, tunnels!) but it's more helpful than a detailed map, in many cases. Maps are only useful if you can find yourself on it–and I've seen too many streets without signs around here to be able to rely on maps.
Public transportation
If you don't want to mess with navigating this city or parking, you can take the bus or the light rail system called "the T." Visit the Port Authority for schedules and routes.
Things to do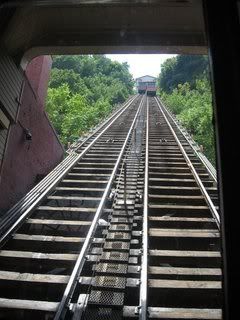 Mt. Washington–This iconic hill overlooks the shores of the Monongahela River, providing excellent views of Downtown, the North Shore, and more. For a unique experience, take the Monongahela or Duquesne Incline to the top. Once you're there, stroll down the street and stop on one (or more) overlooks and take in the sights and sounds.
Cost: $2 one way or $2.50 round-trip. Children ages 6-11 are $1 one way or $1.25 round-trip. Free if you have a monthly bus pass.
Gateway Clipper Fleet–Docking at Station Square are the boats of the Gateway Clipper Fleet. You can choose from a variety of cruises for narrated tours, dinner and dancing, and the "Goodship Lollipop." We haven't done this yet, but probably will in a few weeks when family visits.
Cost: $7.50 for ages 3-12; $11 for adults; $10 for seniors 60+. Over Labor Day weekend, kids can ride for $0.50 but you need to call and make a reservation.
Money-saving tip: If you have an Entertainment Book for Pittsburgh, you can find a coupon for a buy one, get one free cruise (not all cruises can get this discount). Right now, you can get a 2008 Pittsburgh Entertainment Book for free but you have to pay $4.99 shipping.
Station Square–If you're taking the Mon Incline, you might park in a garage near Station Square. Take a peek inside to find little shops and restaurants (most restaurants seem to be national chains). Back outside, you won't want to miss the Fountain at Bessemer Court. Every 20 minutes, the fountains "dance" to perfectly timed music and lights.
Cost: Free to walk around and see the fountain. Not free to park.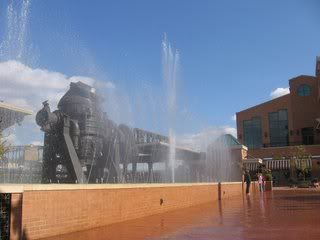 Soergel Orchards–It's blueberry season right now, and you can pick your own here at the orchard. Visit for a variety of fresh, locally grown produce and to wander about the grounds. Children will enjoy looking at the barn animals. Sample some area wines in their wine shop.
Cost: Free, unless you buy something. Heh.
North Park–Pack a picnic (maybe from food purchased at Soergel!) and head to North Park. With plenty of shelter houses and picnic tables, you're sure to find a cozy spot to snack and enjoy the weather. You'll see joggers, walkers, and cyclists exercising along the many trails here.
This park offers:
— An 18-hole golf course ($12-18 all ages on weekends, cheaper on weekdays and during the fall and winter. BYO clubs),
— Driving range $4 for small bucket of balls; $1 off coupon available on web site
— Batting cages 10 pitches for $2, 60 pitches for $10, 120 pitches for $20.
— Swimming pool ($4 adults, $3 youth, $1 children)
— Playgrounds (Free)
— Kayaking — Kayak, canoe, or use a hydrobike at North Park or downtown at the rivers. Prices range from $15-20 per hour.
Visit this site to learn of more county parks to visit.
Ice skating— If you're here in the winter, you can go ice skating downtown at PPG and glide on the ice around a massive Christmas tree at this outdoor rink.
Cost: $7 adults, $6 children, $3 students with ID. Skate rental $3. Families can save money by attending on Tuesday evenings, where children have one free admission with one paid adult ticket.
If you prefer to skate indoors and save money, visit North Park or South Park.
Cost: $3.50 for juniors and adults; $2 for children and seniors. Skate rental is $2. Wednesday night family skates are $10 for two adults and up to four children.
Museums
–Children's Museum of Pittsburgh is $8 on Thursdays, or $9 for ages 2-18 and 65+, and $10 for adults. Save money by using your Entertainment Book to get a free children's admission with the purchase of an adult ticket (not valid on Thursdays). More info.
—Carnegie Museum of Art and Carnegie Museum of Natural History— You get admission to two museums for the price of one. Cost: $11 for students/children, $12 seniors, $15 adults. Use a 2-for-1 coupon in your Entertainment Book to save even more.
—Carnegie Science Center admission includes the Sportsworks facility. $10 for children, $14 for adults. For a little extra, you can also buy tickets to an Omnimax show.
—Andy Warhol Museum–Admission is $8 for children 3-18 and students, $9 for seniors 55+, $15 for adults. Find a 2-for-1 coupon in your Entertainment Book.
—Mattress Factory–Visit here to see modern art exhibits. Free for children under 6, $7 for students, $8 for seniors, $10 for adults. A 2-for-1 coupon is in the Entertainment Book.
Sports
I would be remiss if I didn't mention the city's three professional sports teams. Attending one of these games won't be cheap, but this city definitely loves its black & gold teams.
Pirates (MLB)–If you just want to see a game and don't care where your seats are, you can buy a ticket to a Pirates game for as little as $9 and sit in the general admission bleachers way in the outfield or the left or right field grandstand. Prices go up from there, up to $27 for infield seats and $35 near the dugouts.
More info: Tickets and schedule.
Steelers (NFL)–If you want season tickets, you'll have to get on a waiting list. Some individual tickets are on sale, and if you really have your heart set on attending a game, buy your tickets now to be sure you'll get in. Expect to pay $59 – $240 per ticket. Don't want to pay that much? The experience won't be the same, but you can go to a bar (any bar, I'm betting) on gameday and watch with other ticketless fanatics.
More info: Tickets and schedule.
Penguins (NHL)–Hey, neato, they were playing for the Stanley Cup last season! Season tickets aren't available this time, according to their site. Individual tickets will go on sale on Sept. 20. I have no idea how much tickets will cost, but I'm betting they'll be steep.
More info: Tickets and schedule.
Unique neighborhoods to explore
The Strip District–Come here for great shopping, restaurants, a farmer's market, and nightlife.
The South Side–More shopping, restaurants, and nightlife here. Fun to walk through or drive past.
For more info:
Are you a native Pittsburgher? Have you visited here before? What would you like to suggest?
(Photos: All photos were taken by me, Kacie. I reserve all copyright. Thanks!)